George Babunidze
Our Winemaker
Mr. Babunidze hails from a traditional winemaking family from Telavi and is one of the new cadre of young Georgian winemakers trained abroad and with a knowledge of modern winemaking practices. He received his M.S. degree in 2007 from the Georgian State Agricultural University and has also taken courses and practical training in German wineries and winemaking schools. Since 2006 he has worked as a successful winemaker in several Georgian wineries. He also has experience as an export manager and started the first Georgian wine forum at this website: www.winemaking.ge.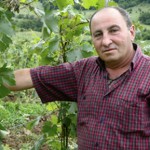 Bedzina Mekvevrishvili
Our Vintner
Mr. Mekvevrishvili lives in the village of Magraani, where for more than 50 years his family has grown Kisi, Rkatsiteli and Saperavi grapes. He and his loyal local vineyard workers have been employed by Danieli Winery since 2011, planting and managing our vineyards. He was also governor of the village of Magraani from 1995 to 2004, but since then has preferred to dedicate the bulk of his time to growing, planting and taking care of vineyards.